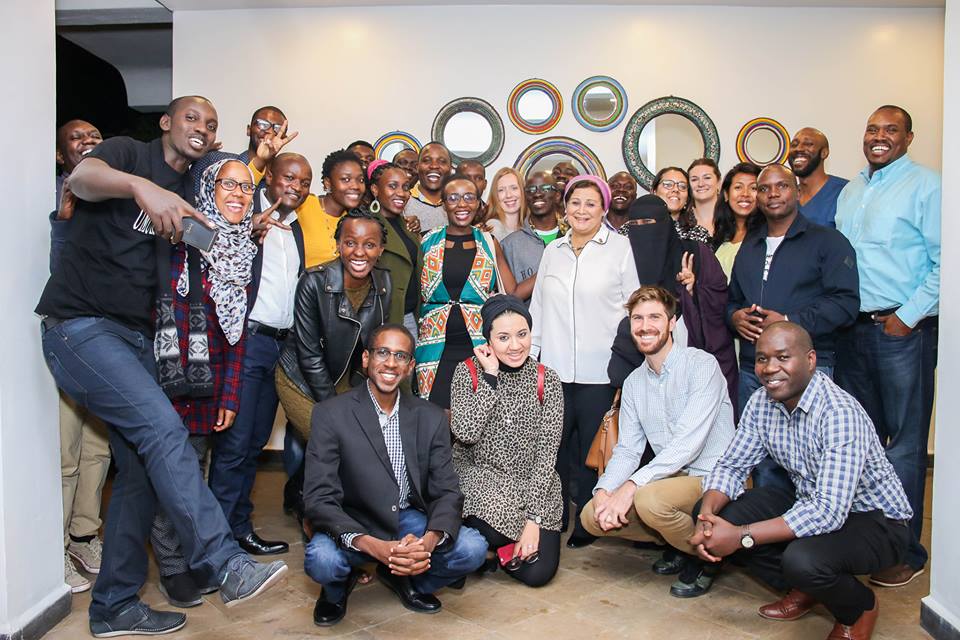 My Experience At Ashoka – American Express Leadership Academy – Nairobi, Kenya
I received my selection mail on July 26 2018. It was 15 minutes to midnight and I was quite busy developing some designs for Social Good Summit Lagos 2018. I was quite dramatic about the news because I was filled with mixed emotions – scepticism and excitement, for the following reasons:
I received the message on an email address I wasn't sure I used in applying for the programme.
That particular email address has been receiving a huge number of spam messages with invitations to fake UN events, real estate investment opportunities etc.
(For some reason, I think spammers sort of have an algorithm for sending scam messages based on the activities of your inbox. I haven't researched this but it looks like that's what has been happening to me.)
Anyway, I dashed on Google to research the names of the person who sent the mail and everyone else she copied. After satisfying my curiosity, I realised it was genuine and was really glad to be selected for the Bootcamp.
From 18th – 21st September 2018, based on our work at SocialGood Lagos, I joined 24 other innovators to represent the African change-making community at the American Express Leadership Academy – Ashoka Emerging Innovators Bootcamp.
ARRIVING AT JOMO KENYATTA, INTERNATIONAL AIRPORT, NAIROBI.
I got the warm feeling of Kenya from the airport. I couldn't help but laugh hard when one of the security officials asked if I had Garri in my bag when she discovered I was from Nigeria. Seriously? Of all questions to ask me! That kept me going for a long time. At the end of all the security routines, I got into Nairobi at 3:00 am on September 18.
ABOUT SELF
The first group work we did was to tell each other how we ended up doing what we do now. The question was simple: How did I get here?
I had 4 amazing people in my team, Moses Kalume (Kenya), Arsène Kashemwa (Democratic Republic of Congo), Petronella Chanda (Zambia) and Lamiaa Nail (Egypt).
---
We each ran through the timelines of our journey and came to one conclusion. We were at a point where we had problems that were peculiar to each of us and we first attempted to solve our personal problems. While in the process, we came to discover the ideas we were pushing were bigger than us, and now we are committed to helping our communities solve these problems in the area of Agriculture, Finance, and STEM.
UNDERSTANDING MONEY
Many social entrepreneurs often shy away from the money talk. Personally, I used to do that a lot and have recently been working my way out of that belief system.
With the help of Danielle Anderson (Founder, Stepandstone.co.uk), we dissected various aspects of our finance. Here are some essential and profound thoughts:
Separate your venture account from your personal account. This may be a no-brainer but many still struggle to align with this.
Track all income and expenses. This is a crucial step for growth. Think of your expenses from a business point of view. How much do you spend on monthly subscriptions, travel, professional fees, supply chain services, staff salaries and miscellaneous? Your growth is in the numbers.
Find where you might be wasting money. You don't have to be under pressure to keep up with public appearances. Fancy laptops, smartphones, unnecessary travel, etc. In the end, no one really cares about all that. Be careful not to spend so much on creating a solution before you validate the relevance of your solution.
The one that really resonated with me was about avoiding copying others. With social media, you can see a colleague putting up fancy stuff and you feel like because they have it, you also need it. You are not even sure what you saw them using is really driving the results they need.
Not all money is good money. Build relationships with potential investors first.
On pricing your services, understand your monthly recurring expenses, the cost of producing and delivering that product/service and the price based on your worth and not on emotions.
TELLING YOUR STORY
Stories are powerful in influencing people. We need to be clear when communicating what we do and what we stand for. Avoid jargon and make it relatable and conversational. Key elements of your pitch – Problem statement, Impact of the problem, Where you come in, and the Result you promise.
If you are dealing with multifaceted problems, try to condense them or create versions for different audiences.
BUILDING BLOCKS FOR VENTURE GROWTH
I discovered something profound in this Bootcamp. The one question I have been asking for years is; Why Africa doesn't have many institutions/corporations that have existed for hundreds of years – and why do we often have plans and policies that take time to implement? Interestingly, one of the things that I mentioned in the pre-Bootcamp survey was that I would like to learn how to build systems that outlive me.
"Culture eats strategy for breakfast." – Ronald Chepkwony.
One of our facilitators made that profound statement and Prof. Scott Bellows sort of dissected this statement unknowingly. It's pure science that's been playing out in Africa.
As a student of behavioural psychology and a certified therapist and Neuro-cognitive reprogramming practitioner, I was able to put a lot of pieces together that are beyond the scope of this blog post.
Prof Scott took us through understanding our personalities and how they influence team development in their ventures. You can't really build the right culture without first understanding the different personality types present in your team.
The insights shared were very timely as Prof. Scott really came through in the area of creating a system for your team collaboration and growth.
SELF REFLECTION JOURNEY
One of the highlights of the Bootcamp was when we took a long walk up Lukenya Hills. It was a combination of trying to avoid the plants with thorns, carefully climbing up the rocks, and trying to take amazing photos. Yeah! The photos are equally important.
The journey was fun, reflective and awesome! I loved the feeling of possibility from up the hill. I had a sense of clarity and inner peace from up the hill. Having that broad view of everything before me, just gave me that feeling of control. If only we could broaden our view about life we would worry less.
That journey reinforced a lesson – There are challenges one would encounter in building an initiative and creating change, but resilience is the key ingredient.
CLOSING DINNER
After the hike, and before our closing dinner, I spent time writing a special note to all my Bootcamp colleagues. I am a master observer and I surely picked lessons and inspiration from everyone, so writing a note was a good way to pay back.
The beautiful part of dinner was how a couple of us just danced and created a merry atmosphere. Ideally, I would have just watched others enjoy themselves but I chose to cherish every moment as I intentionally create memories for myself.
Other interesting things we did include:
confronting our fears by writing them on paper and throwing them into a fire. That night was spiritual;
We also had to develop an idea and pitch before the class;
we played a trust game where we blindfolded a member of our team and directed him with instructions to build an object using spaghetti and marshmallows.
I would have shared more but I have so much I wrote down in my journal that I can't share in a single blog post. Hopefully, I can write a sequel to this post soon.
Those few days were worth my travel. I loved every aspect of the programme. It was not only profound to listen to the stories of other innovators from 16 countries, it was also empowering.
I got motivated, my hope was rekindled and my faith was strengthened. I saw a growing Africa in everyone and I am proud to have met these Young Africans who are changing the narrative of the continent.
A big thank you to Ashoka Africa, Ashoka Changemakers and American Express for the platform to connect with brilliant innovators across Africa. These memories will live on.
---
The American Express Leadership Academy Emerging Innovators Bootcamp which happens in New York City, Paris, Mexico City, Nairobi and Dakar is a 2-3 day intensive training for 125 rising social entrepreneurs and changemakers to discuss and analyze the best strategies to grow and sustain their social ventures. 25 innovators gather in each of the five locations to receive expert guidance and peer support and to reflect on the inner growth and wellbeing necessary to be a strong leader.
---
First published – SocialGood Lagos (25/09/2018)