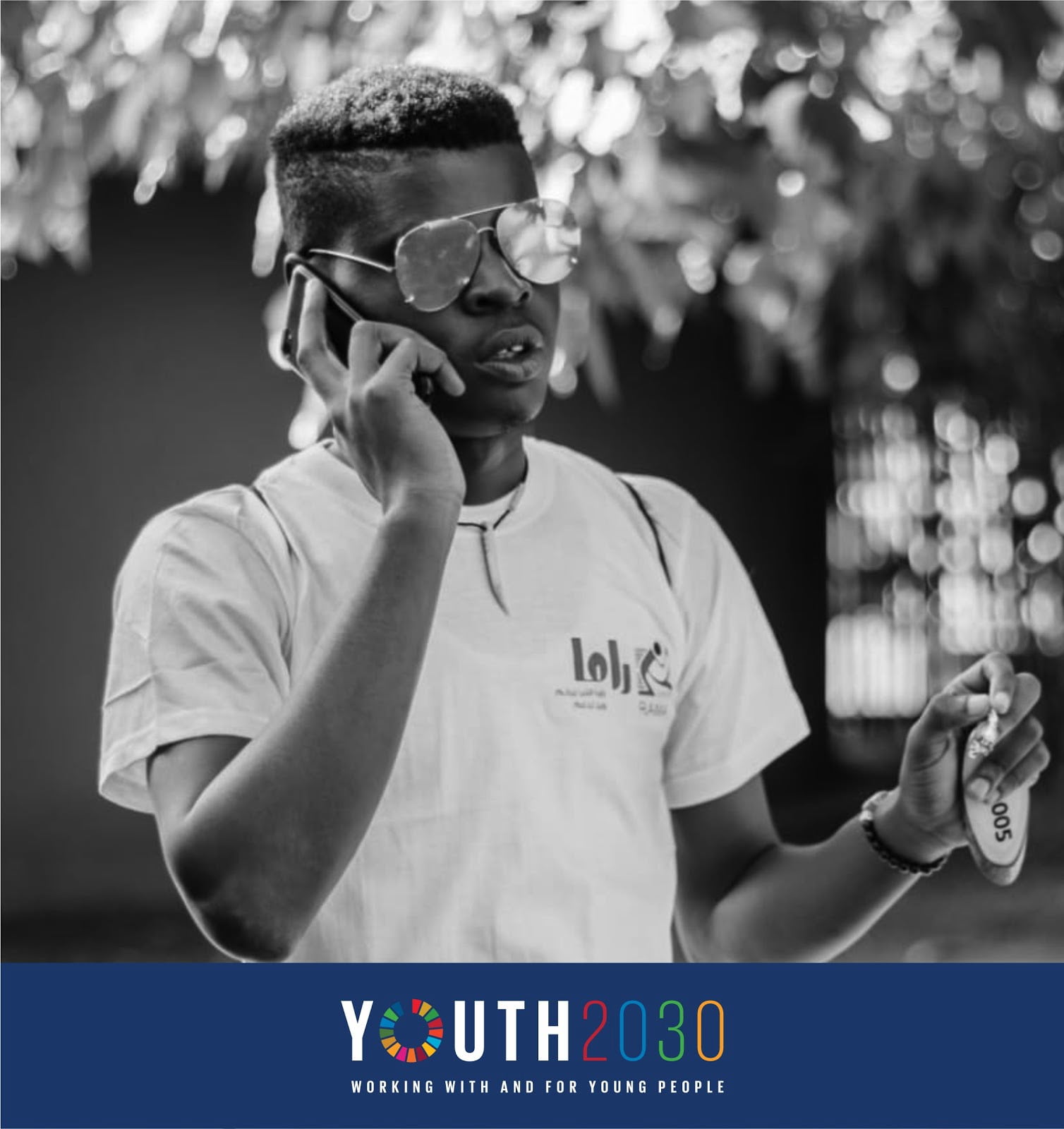 #Youth2030: 6 Young African Innovators Rising for the Global Goals
On 24 September 2018, at UN Headquarters in New York, US, a day before the opening of the 73rd UN General Assembly (UNGA) high-level General Debate, UN Secretary-General Antonio Guterres launched 'Youth 2030: Working With and For Young People.'
The UN 2030 Strategy and Global Partnership Initiative for Youth originate from a decision of Secretary-General Guterres, who made it a priority to reset the UN system's focus on youth to reorient and mainstream the organization's activities toward youth. Its governance arrangements will be rooted in existing global, regional, and national mechanisms guided by a High-Level Steering Committee chaired by the Envoy on Youth.
UN Secretary-General António Guterres remarked that "With Youth 2030, I want the UN to become a leader in working with young people: in understanding their needs, in helping to put their ideas into action, in ensuring their views inform our processes."
The strategy will act as an umbrella framework to guide the UN across its three pillars (peace and security, human rights, and sustainable development) in all contexts. It seeks to significantly strengthen the UN's capacity to engage young people and benefit from their views, insights, and ideas, and ensure that the UN's work on youth issues is pursued in a coordinated, coherent and holistic manner.
It also aims to ensure youth engagement and participation in the implementation, review, and follow-up of the 2030 Agenda for Sustainable Development, as well as other relevant global agendas and frameworks.
This comes at an opportune time for Africa. As the world's youngest continent, it is currently estimated that 60% of Africans are under the age of 25, and the median age is 19 (Compared to 35 in North America). The youth bulge is expected to continue with approximately 60% of the world's anticipated population growth by 2050 projected to occur in the region.
The UN has set five priorities for the next 12 years in order to operationalize the UN Youth Strategy. These priorities include:
Amplifying youth voices for the promotion of a peaceful, just and sustainable world.
Supporting young people's greater access to quality education and health services
Supporting young people's greater access to decent work and productive employment
Protecting and promoting the rights of young people and supporting their civic and political engagement
Supporting young people as catalysts for Peace and Security & Humanitarian Action.
María Fernanda Espinosa Garcés, President of the 73rd UNGA, said through the 2030 Agenda for Sustainable Development, the UNGA recognized youth as agents of change for the first time. She added that youth are "among our best educated, most innovative, and most creative resources" when it comes to addressing healthcare solutions, education or economic opportunities.
In the words of Bill Gates, "The other thing that always strikes me during my trips to Africa is the unbridled optimism of this young generation. Even in the face of tough health and development challenges, most of the youth I meet have a positive outlook about the future."
There are indeed many Young Africans genuinely rising to the occasion as they take action towards solving problems in their communities. The Platform Nigeria calls these young leaders "the new tribe of Africans fighting poverty & changing the face of the continent."
In light of this, on the first week of the UN General Assembly, I was in Nairobi, Kenya for the American Express Leadership Academy — Ashoka Emerging Innovators Boot-camp. The boot camp which happens in New York City, Paris, Mexico City, Nairobi, and Dakar is a 2–3 day intensive training for 125 rising social entrepreneurs and changemakers to discuss and analyze the best strategies to grow and sustain their social ventures. 25 innovators gather in each of the five locations to receive expert guidance and peer support and to reflect on the inner growth and well-being necessary to be a strong leader.
Based on our work at SocialGood Lagos, I joined 24 other innovators to represent the African change-making community. I always find it inspiring to learn about the work other young people are doing in their communities. The stories behind every innovation are absolutely empowering.
After the Bootcamp, I got 6 of my colleagues to answer two questions concerning their initiatives — What their vision is for 2030; and how local communities can progress the SDGs? They are doing incredible work in the area of sports for development, education, health, finance, and filmmaking.
Harrison Otieno | Kenya |CEO, PataGrao Ltd.
What is Your vision for 2030?
A world where participation and access to sports are greatly increased regardless of social status, gender, race or disability results in healthier and more hopeful societies.
How can local communities progress the SDGs?
Holding local decentralized events which create awareness around the issues (SDGs) affecting the community including getting organizations to support them. Highlighting these issues will, in turn, educate the masses who also get a chance to break barriers between themselves through sport.
Sibongile Mongadi | South Africa Founder, Uku'hamba
What is your vision for 2030?
We envisage a world with equitable and universal access to health care and social protection, where physical, mental and social well-being is assured.
How can local communities progress the SDGs?
Acting in collaborative partnerships to develop knowledgeable societies.
Petronella K. Chanda | Zambia Chairperson, Insiemepercaso International Association in Zambia
What is your vision for 2030?
To have created a firm and well-established network of women investors and entrepreneurs across Zambia and its borders. To have more women within communities supporting each other for the financial independence of each woman.
How can local communities progress the SDGs?
Local communities can support women-owned businesses as a way of empowering them to become active and relevant participants at every level of economic activity and development within their countries.
Godwin Egba | Nigeria | Director, Defining True Leadership (DTL)
What is your vision for 2030?
The vision for 2030 is for every teenager to know the importance of education in Africa. To discover the potentials of youth and turn them into assets in society.
How can local communities progress the SDGs?
I believe education is the most powerful tool which can be used to change the world. So with what we are doing, we will enlighten the young people on the importance of education. We will have leaders that are educated in different socio-economic sectors thriving towards changing our community.
Joan Kabugu | Kenya | Founder, Ecila Films
What is your vision for 2030?
Being able to train hundreds of emerging filmmakers and commissioning them to tell authentic stories in Kenya and beyond borders that are showcased globally.
How can local communities progress the SDGs?
By amplifying the creative space, and by training young filmmakers in Africa we'll create jobs in the film and digital content space where they can tell their own stories.
Adele Bruggeman | South Africa Founding Director, ActivateHer
What is your vision for 2030?
By 2030 ActivateHer seeks to provide the opportunity for girls across South Africa and the broader African continent to participate in positive and supportive sporting programmes. ActivateHer seeks to use these sporting programmes to expand safe spaces for girls and generate meaningful conversations around female empowerment, healthy behaviours, and educational achievement.
How can local communities progress the SDGs?
Local communities can progress the SDGs by generating localized communities of practice that support the existing infrastructure in place in these communities that are already working to improve the lives of individuals and the environment. Collaboration and a shared mission to improve our world is the only way for progress on the SDGs to be reached.
Across the globe, there are young people increasingly rising up to take action towards the development of their communities. They are pulling great impact from little resources, they are putting smiles on the faces of women and children, and are constantly seen as a beacon of hope for their generation.
I look forward to the engagement, support, enabling environment, and standing for the right of youths, that the #Youth2030 strategy promises. Now that the international community recognizes that the active role of the youth is instrumental to achieving peace, security, justice, climate resilience, and sustainable development for all, it is time to follow through on our commitment to the future we seek.
---
First Published on +SocialGood (Oct 3 2018)