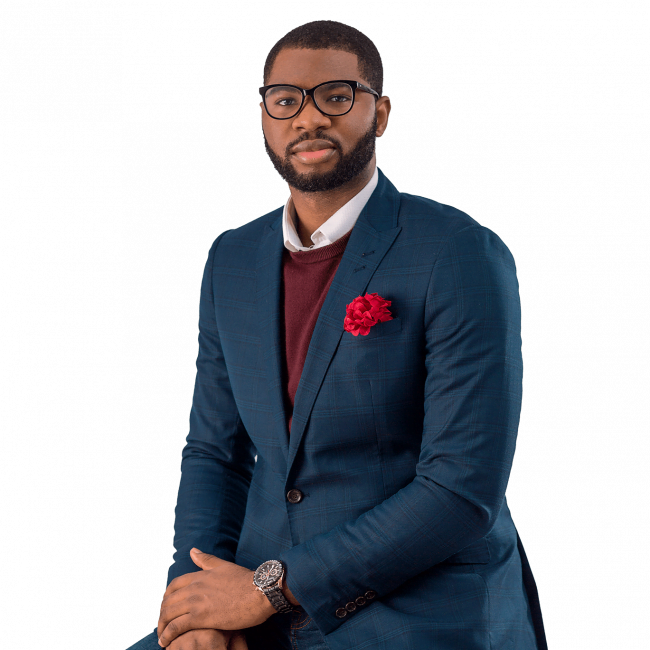 I am an award-winning creative entrepreneur and social development practitioner working at the intersection of research, strategy, design, and communications. I design and develop solutions for driving personal, ethical, strategic, creative, and digital leadership for the growth of individuals, communities and organisations.
As a designer, brand consultant and multimedia producer, my work centres on helping leaders forge new frontiers for people development, brand growth, profit and social impact.
My visionary approach, with a keen sense of problem-solving and human-centred design, has allowed me to deliver on projects locally and internationally, integrating social impact and business growth for the development of communities. I have consulted and trained over 100 startup founders on brand experience design, value proposition design, media & storytelling for Wennovation Hub (funded by USAID) and Changing Narrative Africa respectively. I also consult and advise organizations on designing and implementing effective social impact strategies, programme design, social innovation and non-profit management.
As a social change storyteller, my recent publications include – Journey Home: A Short Documentary on the Intersection of Migration and Masculinity for West African Men; and Beyond Design: A Documentary Podcast on Subverting Hegemonic Masculinity in The Design Industry, in Lagos, Nigeria (Master's Dissertation).
As a changemaker and communication for development specialist, Since 2018, I have collaborated and represented the United Nations Foundation +SocialGood community at high-level global events such as the International Government Communications Forum, YOUNGA Forum, Global Youth Summit, Global Goals Weeks, and UN General Assembly.
I am a 2020 Global Youth Ambassador of TheirWorld, a 2019 Chevening Scholar of the Foreign, Commonwealth and Development Office, a 2019 Bill and Melinda Gates Goalkeeper, a 2019 Global Juror, International Board of Business Owners & Entrepreneurs (Entreps), **a 2018 Ashoka Emerging Innovator alongside 124 social innovators across the world, a 2018 Associate Fellow of the Royal Commonwealth Society, London, and a 2017 fellow of the YALI West Africa, Regional Leadership Centre. I was the runner-up for The Royal Commonwealth Society, London, 2018 International Day of Peace Design Contest. My design was brought to life in the form of T-shirts and Tote bags by Teemill and shipped for delivery across the world. And all proceeds from each t-shirt go towards empowering young people and promoting positive social change across the world. Recently, I was a guest, (Associate Fellow) Royal Commonwealth Society, at the 2020 Commonwealth Service, in the presence of Her Majesty The Queen, Head of the Commonwealth, Members of The Royal Family, Commonwealth and UK diplomatic representatives and members of the public, in addition to approximately 800 young people from across the UK.
Outside of my professional career, I am the Founder & Board Chair of SocialGood Lagos; a United Nations Foundation +SocialGood chapter dedicated to driving local actions towards the Sustainable Development Goals by leveraging new media & technology. Also, Co-founder & Board Chair of The Leverage Africa, a non-profit dedicated to grooming principled centred transformational young leaders in the public and private sectors while preserving and promoting the African heritage. In 2019, I was selected as a +SocialGood Connector of the United Nations Foundation, amplifying local stories of change and bringing critical voices and perspectives from around the globe to drive innovation for the SDGs. Currently, I serve as an advisor, providing mentorship, strategic counsel and guidance to new fellows.
I am a visionary with over 10 years of experience using communications technology to amplify social change causes; over 7 years of experience designing programs and platforms that bridge the gap in leadership, media and technology for the development of communities and organisations; and over 6 years working with corporate clients, small businesses, thought leaders, community leaders, non-profits, educators, social enterprises, good causes to amplify their growth and create positive social impact through design and digital media. This has earned me the name "The Digital Leader".
My leadership journey began as a 15 years old teen content creator when I founded Seasoned Life Journal – a digital platform that helped young people get the clarity, boldness, strategy, and tools to execute ideas that will impact their communities. Using this medium, with over 180 publications, in 5 years I was able to reach over 20,000 readers with over 590,000 views from 37 countries across the continents, helping them get clarity, boldness, strategy and tools to impact their communities. In January 2018, Seasoned Life Journal merged with Guild of African Patriots, another youth-led initiative to become The Leverage Africa, with the sole aim of maximizing the synergy to scale up impact.
In 2016, I started my first business, Bramo Digi. I  helped individuals and organisations develop creative marketing, design and brand innovation strategies. In 3 years, we worked with over 35 brands from 4 West African countries and trained over 200 leaders in digital leadership. In 2018, it was recognised as one of the Top 100 Emerging SMEs in Nigeria by Union Bank & Connect Nigeria.
I believe that positive transformation in society begins from personal leadership; and I am passionate about challenging mindsets, cultures, traditions and ideologies that inhibit the growth of individuals, nations, and the purpose of humanity – as I believe God designed it. I do this through various platforms such as public speaking, his books, podcasts, and closed coaching programmes. I am a mentor, teacher and prolific speaker, inspiring leadership and innovation at several conferences across the world. In 2018, I had my first TEDx talk and have equally spoken to 15,000 people on leadership, social change, storytelling, design, and innovation. I am the author of two books; Lead Your Life and No Excuse Challenge.
I am an adjunct lecturer of design & branding at Mountain Top University, Nigeria. I hold a Master of Arts degree (distinction) in Media Practice for Development and Social Change from the University of Sussex, UK; and a Bachelor's degree in Physics Education from Lagos State University, Nigeria. Also, I hold a certification in Basic Family Life Therapy & Neuro-cognitive reprogramming; an alumnus of the American Express Leadership Academy, and Daystar Leadership Academy.